September/October 2016
PE Report
Thousands Celebrate the Professional Engineer
Inaugural PE Day captures the pride of the profession.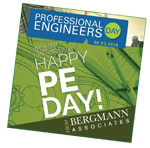 While celebrations of engineering and its many disciplines have been around for decades—after all NSPE founded National Engineers Week 65 years ago—never has there been a celebration specifically for the licensed professional engineer.
That changed on August 3, when PEs across the globe came together to celebrate the first annual Professional Engineers Day. Designed to increase awareness and appreciation of PEs, this mostly virtual event saw NSPE members, partner organizations, engineering firms, engineering schools, and even the general public recognizing the event and using the #LicensedPEDay hashtag across Facebook, Twitter, and Instagram. The interactions on these platforms were impressive:
Twitter
Close to 2,000 total tweets of the #LicensedPEDay hashtag from over 600 individual contributors resulted in a total Twitter audience of over 600,000 with over 3.7 million 
hashtag impressions.
Tweets came from around the globe, including Africa, South America, Asia, and Australia.
Over 1,300 photos and 14 videos were shared on Twitter using the #LicensedPEDay hashtag.
Facebook
Around 500 posts were tagged 
with the #LicensedPEDay hashtag 
on Facebook.
Over 1,200 people were reached through the creation of the "PE Day" event on NSPE's Facebook page.
NSPE's page saw over 400 page views on August 3, with over 7,500 people reached by posts to the page (almost a 70% increase over page statistics 
for July).
Posts on NSPE's Facebook page received 521 reactions, 244 shares, and 41 comments.
Instagram
130 posts incorporated the #LicensedPEDay hashtag.
NSPE gained almost 20 new followers (notable since NSPE is so new to this social platform).
NSPE's PE Day photos received over 50 likes and 66 impressions.
In addition to all of the virtual activity, many state societies and members took the initiative to secure official proclamations for Professional Engineers Day from their governors, mayors, and county officials. Governors from Kansas, Louisiana, Ohio, Oklahoma, and Wisconsin signed proclamations, while the cities of Avondale and Casa Grande in Arizona; Manhattan and Wichita in Kansas; and the county council in Spartanburg County, South Carolina also all declared August 3 as Professional Engineers Day.
Others celebrated with in-person events, like the members of the Travis County chapter of the Texas Society of Professional Engineers, who hosted a PE Day-themed happy hour, and numerous engineering firms and organizations included mentions and articles about the day on their websites.
The idea for PE Day came from NSPE Immediate Past President Tim Austin, P.E., F.NSPE, as a way to give separate recognition to PEs apart from celebrations such as Engineers Week and the US Science and Engineering Festival that focus on the profession at large. Through discussions with NSPE staff and leaders, the concept and plan for the inaugural event were developed, and the first Wednesday of August was selected to coincide with the first professional engineering license being issued to Charles Bellamy in Wyoming in August 1907.
Next year's event will be held on Wednesday, August 2.