November/December 2019
NSPE Today
NSPE-Led Coalition Delivers Message on Responsible Licensure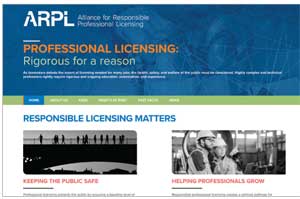 VISIT THE ARPL WEBSITE AT RESPONSIBLELICENSING. ORG TO LEARN MORE ABOUT THE COALITION AND FIND MORE INFORMATION TO SHARE.
In August, NSPE announced the creation of the Alliance for Responsible Professional Licensing (ARPL), a coalition of advanced professions that is focused on informing lawmakers and the public about the importance of rigorous professional licensing standards.
In combination with its longtime efforts defending the PE license, the Society has been leading the charge to educate policymakers about the importance of standards for complex technical professions, such as engineering, that affect the public health, safety, and welfare.
NSPE has been working to get ARPL's important messages out. You can help—follow @TheARPL on Twitter and at www.facebook.com/TheARPL and reshare.
Below is some additional information from ARPL that you can help promote.
The Public Supports Regulation Done Right
Among voters surveyed:

Say licensure ensures qualified professionals are servicing the public

Say licensure sets safety standards across an industry

Say licensure keeps the public safe

Say licensure protects the best interests of the public
Source: Benenson Survey, 2019. Unpublished raw data. Cited at www.responsiblelicensing.org.