May/June 2017
In Focus
Can Title IX Change STEM Culture?
At 45, Title IX remains an important tool that some believe could open engineering to more women.
BY MATTHEW McLAUGHLIN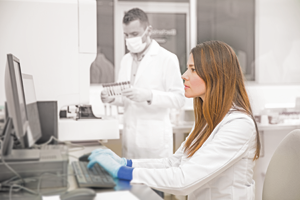 This year marks the 45th anniversary of Title IX of the Education Amendments of 1972, the landmark federal law prohibiting discrimination based on sex by recipients of federal funds for educational programs or activities. And while women and girls have greater educational opportunities than they did 45 years ago, Title IX remains a relevant and important statute.
"Not every student experiences sex discrimination, but we know that very high rates of students, and particularly women, girls, and gender nonconforming students, experience it in all different forms," says Alexandra Brodsky, Skadden Fellow at the National Women's Law Center. "Title IX is still crucial for making sure that gender never poses an obstacle to a student's opportunity to learn and that kind of educational equity is so important."
The Society of Women Engineers still hears stories from students facing discrimination, adds Executive Director and CEO Karen Horting. This includes everything from struggling to gain equal access to lab time to facing hostile classroom cultures.
Between October 1, 2015, and September 30, 2016, the Department of Education's Office for Civil Rights, which enforces Title IX, received 7,747 Title IX-related complaints. Of the 1,346 cases OCR was able to resolve, 78 resulted in resolution agreements that secured changes protective of students' civil rights in schools around the nation. OCR tracks only the number of resolution agreements. Other resolved cases were not necessarily unfounded; they could have resulted in a range of outcomes, including dismissal, administrative closure, a finding of no violation, an early complaint resolution, or a resolution requiring action by institutions without a resolution agreement.The issues most frequently raised in the OCR complaints were athletics and sexual harassment and violence, areas where Title IX is considered the most successful and better understood. In contrast, between October 2015 and September 2016 there were only 32 admissions complaints, but the reason isn't clear. Perhaps it's progress or it might just be a sign that Title IX isn't fully enforced or understood.
While significant progress has been made in athletics and schools' response to sexual assault, Horting believes the same cannot be said in other areas. In terms of STEM, access to STEM, and the use of funding, "I think the effectiveness has been pretty minimal," she says.
"Title IX is a really powerful tool for changing policies and creating cultural change," Brodsky argues, "but there's still a lot left to do, specifically … we know that women and girls are underrepresented in STEM classes and STEM majors and in STEM fields."
Women still earn less than 20% of bachelor's degrees in engineering and computer and information science, according to the most recent data from the National Center for Education Statistics. Meanwhile the National Collegiate Athletic Association reports 43% of student athletes are women and the average school sponsors eight teams for men and nine teams for women.
IX History
Title IX's impact on collegiate sports wasn't immediate by any means. Early in the law's history its relevance to athletics wasn't even consistent.
In 1984, a US Supreme Court decision ruled that Title IX applied only to programs that directly benefitted from federal funds, significantly limiting OCR's jurisdiction in athletics programs. A few years later, the Civil Rights Restoration Act of 1987 effectively overturned the ruling by directing that Title IX applies to all operations of recipients of federal funds, restoring OCR's jurisdiction over athletics programs.
However, clarifying Title IX's jurisdiction over athletics programs wasn't enough to bring equity to collegiate sports. By 1992, women still represented only 35% of student athletes, despite representing 54% of bachelor's degree recipients, according to SWE. It was a flurry of Title IX litigation in the 90s that forced educational institutions to strengthen their commitment to women's athletics programs and, just as importantly, made students and parents aware of their rights under the law.
"If you look at the legislative history, it's very clear that the legislators were specifically concerned about sex stereotyping, and they saw the scope of Title IX being very wide," Brodsky says, adding that legislators wanted to push back on outdated notions that education served a different purpose for women and men, and that men and women were suited for different fields of study.
While interpretation of Title IX is in some respects still being debated today—notably its relevance to transgender and gender nonconforming students—its application to all aspects of education have been well-established. Everyone, regardless of sex, is guaranteed access to higher education, athletics programs, career education, employment, a safe and supportive learning environment, STEM programs and courses, fair standardized testing, and technology. Title IX also guarantees access to education for pregnant and parenting students and protection from sexual harassment.
IX Engineering
As was the case with athletics, clear interpretation of and protected rights under Title IX aren't enough to afford women the same opportunities as men. Though Title IX applies to all aspects of engineering education, women still earn only 18% of bachelor's degrees in engineering and computer and information science and 26% of master's degrees in engineering and computer and information science, according to the National Center for Education Statistics.
In STEM, Horting believes "there's still kind of a woeful understanding by both students and institutions." Students aren't aware of their rights under Title IX and institutions aren't aware what Title IX requires of them, such as naming a designated Title IX compliance officer, establishing an official Title IX grievance procedure, and disseminating Title IX nondiscrimination policy information to students and faculty.
"One big obstacle of gender equity in STEM fields is students knowing their rights and students and parents having the tools that they need to stand up for themselves when schools subtly or explicitly push women and girls out of STEM fields," Brodsky says.
Title IX can't solve all of engineering's gender diversity problems, but throughout its history, the law has helped bring about change when enough attention was devoted to a particular issue. It happened with athletics in the 1990s and more recently with the attention given to schools' response to sexual assault.
To achieve the progress that has been seen in the areas of athletics and sexual assault, the Society of Women Engineers makes the following recommendations in its General Position Statement on the Application of Title IX to the Science, Technology, Engineering, and Mathematics Fields:
Policymakers should step up enforcement of Title IX with regard to STEM disciplines, and fund programs that will help educate students and their parents, and STEM faculty, of their rights under the law;
Educational institutions should fulfill their obligations under the law; examine their institutional policies, procedures, or practices for gender bias; provide suggestions for areas to examine when evaluating programs for gender bias; and make this information accessible to the public; and
Federal funding agencies should fulfill their monitoring and enforcement obligations under the law and make this information available to the public.
Many of the agencies that provide federal funding to educational institutions rely on OCR for monitoring and enforcement. But between October 1, 2015 and September 30, 2016, OCR had only enough resources to resolve 17% of Title IX complaints, which is why SWE would also like to see agencies take responsibility for their funding by fulfilling monitoring and enforcement obligations.
"Title IX alone is not going to force or encourage women to go into some of these fields, but I think it could be so important," Horting says. "It is one of those things that, if properly enforced, could have a bigger impact."
The monitoring and enforcement problem also has SWE and the National Women's Law Center concerned about possible cuts to the Department of Education under President Trump's new administration. Should OCR lose even more resources, they fear more complaints will be left unresolved.
Getting women interested in engineering and into engineering programs will all be for naught if they get there and are discriminated against, Horting argues. "They're going to go on to something else, and I think the profession is at a time when we need everybody who is interested. The numbers for women in some of these fields—engineering and physics—are just not where they need to be in terms of having a diverse workforce for innovation."
Title IX isn't just an issue for SWE or women engineers, and they can't be the only ones standing up for the law either, Horting adds. "Engineers all need to be advocates. Whether it's meeting with one of your legislators when they're home in the district, whether it's sending an e-mail to them, whether it's participating in your professional society's fly-in day to Washington, enforcement of Title IX needs to be on your list of asks."
Bachelor's Degrees in Engineering and Computer and Information Science Awarded by Gender
 Male   Female

SOURCE: DEPARTMENT OF EDUCATION INSTITUTE FOR EDUCATION SCIENCES, NATIONAL CENTER FOR EDUCATION STATISTICS
Number of Title IX Issues Raised in OCR Complaints Between October 2015 and September 2016

SOURCE: DEPARTMENT OF EDUCATION OFFICE FOR CIVIL RIGHTS