May 2013
The PE's Perspective
In a wide-ranging survey, NSPE members give their views on the engineering workforce, public image, STEM education, and other hot topics.
BY DANIELLE BOYKIN
Does the public have a positive view of engineers? Are U.S. students prepared to compete globally? Should professional engineers promote sustainable design? These are some of the questions posed by NSPE's 2013 Engineering Outlook Survey. Nearly 3,200 professional engineers and engineer interns participated in the survey to share their views on career satisfaction, diversity, ethics, licensure, public perception of engineering, and topics such as climate change and visas for highly skilled workers. After the survey, PE spoke with NSPE members to get their take on the issues that the engineering community is buzzing about.
For decades, the engineering community has been on a mission to advance the public image of the profession. When it comes to the image and stature of the engineering profession, 81.3% of survey participants agree that they are positive. In addition, 53.4% agree that compared to other professions (medicine, law, architecture, accounting), engineering is held in high regard by the public. Public polling over the years has also consistently revealed that the public considers engineers to be ethical—yet, there remains a knowledge gap about the profession.
Engineers are viewed as favorably as doctors, says Lora Boller, P.E. "When I meet someone and say that I'm an engineer, the usual reaction is 'Wow, you must be super smart,'" says the civil engineer from Frankfort, Kentucky. "People don't know everything that we do, but what they do know, they think it's cool."
Chris Webber, P.E., agrees that the public perception of engineers is positive, but most individuals are not completely aware of how engineering affects their lives. In addition, engineers don't get much coverage in the media unless there is a catastrophic infrastructure failure, he says. So what's the problem? "Engineers aren't doing enough to educate the public. Many of my colleagues would prefer to work quietly behind the scenes with no attention," says the Cleveland, Ohio, consulting engineer. "To entice people to learn more about engineering, it's going to take more engagement from engineers."
When professional engineers are taking on projects that will affect the public or advocating for licensure laws, they must engage with public officials and legislators. When asked if issues affecting the engineering profession are well understood by public officials and government leaders, 73% of survey participants disagreed.
As constituents, PEs need to play a bigger role in reaching out to legislators, says Boller. "Too many legislative representatives do not fully understand the role of the engineer or the importance of licensure in sectors of engineering," she says. "Individual engineers need to learn about the issues and go out and speak to them."
One solution to increasing the understanding of engineering issues in the legislative process is for more engineers to commit to public service beyond their technical duties. Nearly 79% of survey participants agree that more PEs should run for elected office on the local, state, and national levels.
When annual infrastructure reports give poor grades on the state of U.S. infrastructure, Robert Lanza, P.E., believes they should get the attention of Congress. But they don't. "The level of discussion about our infrastructure needs at the congressional level is an indication that issues affecting the engineering profession are not well understood," says the senior chemical engineer with a firm in Washington, D.C. "My overall conclusion is that the country would benefit greatly if there were more engineers in elected office."
Teaching the Next Generation
Boller fondly recalls her love for math and science as a K?12 student. Her teachers were aware enough of her interest to advise her to go into engineering. "More opportunities need to be available for children to see the fun side of math and science," she says. "I'm a strong supporter of the Project Lead the Way program and the effective way it presents science, technology, engineering, and math to young people." Almost all survey participants (90.5%) support the implementation of STEM education programs in K?12 school systems to encourage more young people to learn about engineering in hopes of one day entering the field.
Over the years, there has been a steady increase in STEM education and outreach through programs such as MATHCOUNTS and Engineers Week activities. Yet, reports and rankings consistently put U.S. students at the bottom of scholastic achievement. Most survey participants (56.1%) do not believe that U.S. K?12 students are adequately prepared and educated to compete with students from other industrialized nations.
Mark Herrmann, P.E., admits that his K?12 education didn't fully prepare him for engineering school. He took honors-level courses in high school, but it wasn't enough. "There were other students that had more advanced knowledge, and I was overwhelmed and unprepared," recalls the water resources engineer from Hammonton, New Jersey. "I realized that I was behind and had to put in much more effort to eliminate the gap."
Even today, Herrmann doesn't believe that the public school system has improved in preparing students, based on discussions with recent graduates and teachers. Educators, he says, need to better understand how to prepare students for STEM careers. "My wife teaches in a middle school and I see what she is required to teach," he says. "The system focuses on memorization and forgoes critical thinking skills that are really important in the engineering field."
During his 20-year career, Webber gained a different perspective as he engaged with college students from both the U.S. and abroad in student co-op programs. They all seemed competent, energetic, and excited about the field, he recalls. "All of the students were very well prepared and knowledgeable in new technologies as well as meeting the standard expectations for what an engineering student should be prepared in," he says. "I didn't see the big disparities between U.S. students and the ones from other nations."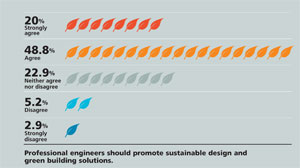 Diversifying the Workforce
When Rachel Barese, P.E., applied to colleges, she made it a priority to choose an engineering program with a high number of female students. Women in the field, she believes, should play an active role in encouraging students to go into the profession and stay in it. "The older white male engineer isn't a stereotype, but a reality," says the Bucknell University graduate. "I was lucky to always have other female engineers to look up to, but not everyone is so lucky."
The majority of survey participants (56.6%) support education and professional programs to encourage more women and underrepresented minorities to enter the engineering field.
STEM programs starting in elementary school are critical to getting more young people interested in engineering, says Boller. She also believes that students need to engage with more women and underrepresented minorities who are in the profession. "Every type of engineer should come and talk to students, but you've got to mix it up and bring in engineers who are women and other ethnicities to speak to students," she says. "They shouldn't get it in their heads that only older men can be engineers."
Thirty years ago, Lanza graduated from Cornell University when there were relatively few women in the chemical engineering program. Now about half of the 2013 graduating class is female, he says. "This took a lot of work to accomplish and is a great source of pride for our program," he adds. "Other engineering programs should be working towards parity in their enrollment. This starts by recruiting students into engineering at the K?12 level. If women and minorities don't apply to engineering schools in sufficient numbers, parity cannot be achieved."
Debating the Issues
The Engineering Outlook Survey also asked questions about immigration, the economy, and climate change—issues that can stir up heated discussions among the general public and within the engineering community.
There is a constant debate within the technical industry, engineering community, and in Congress about H1-B visas and if workforce shortages should be addressed by increasing the number of these visas. The results were almost evenly distributed. More than 37% of survey respondents neither agree nor disagree with the statement that the U.S. should increase the number of H1-B visas available for foreign-born engineers and students who have earned engineering degrees in the U.S. Nearly 31% of participants agree that the number of visas should be increased, while 30% disagree.
Lanza believes that the U.S. should be able to benefit from engineers who earn degrees in the U.S. "The U.S. has a shortage of engineering graduates as related to all of the engineering work that needs to be done here," he says. "No one should feel threatened by permitting more engineers to come to the U.S. for work."
The focus, says Barese, should be on encouraging more Americans to go into engineering ahead of foreign engineers. "As more students are learning about engineering, then they are more likely to pursue it," says the president of a New York engineering firm.
Survey results also give a snapshot of engineers' perceptions of their role in addressing environmental issues. When asked about sustainable design and green building solutions, 68.8% of survey participants believe that professional engineers should promote these solutions. On the topic of climate change, 50.2% agree that professional engineers should be more involved in addressing climate change issues; 18.2% disagree, and 31.3% neither agree nor disagree.
Herrmann believes that PEs should be involved in promoting sustainable designs, but should stay out of the debate over climate change. The debate about climate change, he says, is too contentious an issue for engineers. "The issue is too divided as it currently stands and the engineering profession would just add a third side to the debate. Both sides are more concerned with discrediting the other side than doing actual, tangible research and work," he says. "There's no reason to believe that engineers could remain above all of the nonsense."
Herrmann adds, "There's a growing emphasis on green technology and sustainability, and engineers should continue to do the work on the ground and not be at the forefront of the debate."
Lanza's professional experience has led him to strongly agree that engineers should get more involved in dealing with climate change issues. "I've seen changes first hand. It's not about a belief system, but a matter of physical changes that are happening and can be measured," says Lanza, who has been involved in conducting greenhouse gas emissions inventories and energy efficiency studies. "The sea level in New York has risen nine inches since 1940. That's not a small number when you've seen the effects of Superstorm Sandy on the subway system."
As extreme weather events occur on a more regular basis, engineers will have no choice but to be more involved, Barese says. "It has made us realize that the infrastructure systems designed in the past were designed to deal with the 100-year storm, but now these storms are coming more frequently," she says. "We are the ones designing the stormwater structures, water treatment, and sewer treatment facilities. We can improve the waterways and implement better planning for low impact development as well as green infrastructure measures."