July/August 2019
Celebrate!
Enthusiastic participants in the annual Professional Engineers Day are bringing recognition to society's superstar problem-solvers.
BY DANIELLE BOYKIN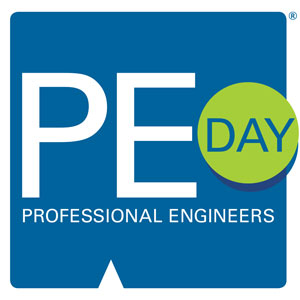 On Wednesday, August 7, 2019, professional engineers, AEC firms, and organizations that employ PEs will raise awareness of the profession with social media posts and videos using the hashtag #LicensedPEDay. Professional Engineers Day has grown tremendously, with more NSPE members, partner organizations, engineering firms, engineering schools, and even the public celebrating the event each year.
Who knew that a simple idea to show appreciation for professional engineers would grow into a greatly anticipated annual affair? Well, that person would be NSPE Past President Tim Austin, P.E., F.NSPE, whose idea sparked the event that launched in 2016. PE Day coincides with the awarding of the first professional engineering license, which was issued to Charles Bellamy in Wyoming in August 1907.
Austin believes that over the years NSPE effectively promoted engineering through Engineers Week and MATHCOUNTS, but something was missing—a focus solely on licensed professional engineers. "I realized this when I was giving a presentation for a local Rotary Club. Most of the audience didn't know that some engineers were licensed and those that did, didn't know why."
Uplifting the PE Image
When PE Day comes around, Neil Brady, P.E., takes the opportunity to celebrate all that PEs (and rising PEs also known as EITs) do for society. Brady's firm, Anderson Engineering Inc., employs 27 PEs and 16 EITs. "We believe that PE Day has helped to [uplift] the image of the PE. PEs typically do not get a lot of recognition except in times of disasters or major problems," says the president of the Springfield, Missouri-based firm.
The firm Parkhill, Smith & Cooper has been participating in PE Day since the first year. It has become a critical component of the firm's marketing strategy. The firm employs 85 PEs and 26 EITs in 10 offices in Texas and New Mexico. On PE Day, the focus is on the people behind the projects. "We've really taken an intentional initiative to promote and celebrate PEs, since we began our social media marketing in 2011," says Eric West, P.E., F.NSPE, a firm principal and sector director of site development and planning in the Midland, Texas, office. "We make promotional videos and different posts honoring our PEs and sharing why they become professional engineers."
PE Day at PSC also engages all staff members with competitions that promote creativity while increasing knowledge about engineering concepts. These activities can involve designing planes that will safely fly eggs off a second floor or designing towers out of spaghetti noodles and marshmallows. Nonengineer employees can essentially become engineers for the day.
"The positive responses to the firm's PE Day posts and activities from clients, families and friends of employees, and colleagues in the industry reveals that they enjoy getting to know more about the individuals behind our engineering projects," says West.
Educating Clients and the Public
Greg Cellamare, P.E., knows that earning his engineering license says a lot about his level of competency. "To my clients, being a PE means that I have the credentials to earn their trust," says the senior environmental engineer at the multidisciplinary firm H2M, based in Melville, New York. "To my employer and colleagues, it signals my ability to take on a higher level of responsibility and it earns their respect."
Cellamare says that it will take time to educate the public about the value of professional engineers, but he views PE Day as a great start. H2M plans to participate with messages of gratitude plus a luncheon and official recognition of its more than 75 PEs by executive leadership. "H2M will also use our internal and external communications channels to raise awareness about the value of professional engineers and to show appreciation for the important work they do, day in and day out."
Paul Shivers, P.E., a senior project engineer at Highfill Infrastructure Engineering, says the event is essential to spreading the word about the professional engineer's role. "Engineers' contributions to society and everyday life are everywhere. Some visible and some not so visible. I do believe that PE Day has helped to boost our image," says the past president of the Professional Engineers of North Carolina.
Shivers adds, "But I also believe that we need to find additional ways for the public to recognize the value that engineers provide to their everyday lives. From the water they drink, to the car they drive, to the roads they drive on."
When Clark Nexsen decided to participate in PE Day, the firm decided to go big in the celebration of the profession through internal communications and its social media channels. In 2018, the firm created a #LicensedPEDay animated campaign about why professional engineering matters with CEO Chris Stone, P.E., F.NSPE (an NSPE past president) and nine staff members. The campaign received more than 150 likes between Facebook, LinkedIn, and Twitter, and the campaign video had more than 2,000 views, says Cat Brutvan, Clark Nexsen's corporate communications manager.
Clark Nexsen's 2019 participation will involve special breakfasts in addition to another social media campaign about the firm's 111 PEs and 25 EITs.
Boost PE Day Participation
Brutvan believes that PE Day is growing annually in a way that elevates the image of the PE and educates the public about the PE's role. "The well-designed logo and resources are helpful to have when promoting PEs with social media posts using the #LicensedPEDay hashtag," she says.
Brutvan adds, "The [participation] ideas suggested are simple and doable. In turn, individuals from companies get some well-deserved recognition and can share the company posts with their social networks."
PE Day is influencing the marketing and communications strategies of companies that want to improve how they inform the public, particularly students, about the work of professional engineers. At Fleis & VandenBrink Engineering, marketing, human resources, and the IT departments regularly produce videos of interviews highlighting the firm's PEs. "Doing this has created interest among our employees to get out throughout the year and show students in grade school and high school what engineers do," says Paul Galdes, P.E., president of the firm based in Grand Rapids, Michigan.
Galdes hopes that as PE Day continues, it will help inspire the next generation of professional engineers. "We are certainly seeing a shortage of qualified engineers and are concerned about the future," he says. "It is imperative that we are out in front of kids, from elementary through high school, on a regular basis. PE day is certainly a part of that."
Advocating for the PE
Social media is the main driver of this celebration of the profession, but another way to increase recognition of PE Day is through proclamations from local and state governments and public officials. Last year, PEs secured official proclamations from their state and local governments to declare "Professional Engineers Day" in 10 cities in Texas, as well as the states of Kansas, Missouri, Pennsylvania, South Dakota, South Carolina, Virginia, and Wyoming.
Template language and a guide for PE Day proclamations are available on the NSPE website, for those interested in receiving a proclamation from their local or state governments.
Another way to take part in this event is to become a PE Day Advocate. This year, advocates will be promoting the value of the PE license and urging support for federal legislation that was introduced after a 2018 tragedy in Massachusetts.
The bill, the Leonel Rondon Pipeline Safety Act, has been a top priority for NSPE's Government Relations staff. House and Senate versions were introduced in the House and Senate in April in response to the gas pipeline explosion in Massachusetts' Merrimack Valley last year that killed the 18-year-old Rondon and destroyed several homes. The legislation seeks to end the PE license exemption for work done on public utility pipelines.
The government relations staff, in partnership with state societies, is organizing advocacy opportunities for NSPE members. Members will be able to voice their support for the legislation in meetings with Congressional staff in their district offices. A training webinar and communication talking points will be provided to advocates.
It's important to use PE Day activities to speak out and draw the connection between engineering licensure and protecting the public health, safety, and welfare, says Tim Austin. "Today's state regulatory considerations on eliminating or reducing occupational licensing and licensure exemptions clearly illustrates the need to raise public awareness," he says. "We have to remember what can be legislated in, can be legislated out."
Access Professional Engineers Day information and resources.
Register to become a PE Day Advocate.

What You Can Do
Need ideas for taking part in PE Day? Here are a few:
Upload a photo or video of yourself to social media;
Share why you decided to become a PE;
Post photos or videos of your team of PEs;
Share your reasons for hiring PEs;
Give special recognition to your PEs in the workplace or on the job;
Educate your colleagues about the importance of the PE license; or
Share photos of your colleagues enjoying the PE Day cake you brought to the office.
Expanding Celebration
Nationwide participation in PE Day has grown considerably since its launch in 2016. Here's what participation looked like on Twitter, Facebook, Instagram, and LinkedIn for 2018.
Twitter
More than 1,600 tweets using #LicensedPEDay on Twitter with nearly 700 contributors. There were 600 unique images and 15 videos shared. The Twitter "audience" totaled 770,000 with participation from Australia, Japan, Egypt, Ecuador, and Georgia.
Facebook
Posts on Facebook reached 17,852 people with 662-page views with 160 new page likes. Posts on this particular social media app received 3,506 likes, comments, and shares of posts.
Instagram
More than 150 posts using #LicensedPEDay on Instagram with 33,159 impressions and 3,069 likes. More than 200 likes of NSPE pictures using #LicensedPEDay. Eighty-five profile views and 25 new followers.
LinkedIn
The #LicensedPEDay hash tag made it onto hundreds of posts on LinkedIn with 224 likes of NSPE posts and 52 shares. The NSPE page received 108 new followers.