Nominations for the 2023 Federal Engineer of the Year Award closed on October 31, 2022. Tickets for this year's ceremony will be available January 2023.
Federal Engineer of the Year Award Ceremony
February 24, 2023
1:00 p.m. – 3:00 p.m. (E.S.T.)
National Press Club
529 14th Street, NW
13th Floor
Washington, D.C., 20045
2023 NSPE Federal Engineer of the Year
The Federal Engineer of the Year Award, sponsored by the Professional Engineers in Government, honors engineers employed by a federal agency that employs at least 50 engineers worldwide.
---
Highlights from 2022 Federal Engineer of the Year
Congratulations to our 2022 Federal Engineer of the Year Award Winner: Robert Zueck, Ph.D., P.E., of the U.S. Department of the Navy, Naval Facilities Engineering Systems Command, Expeditionary Warfare Center.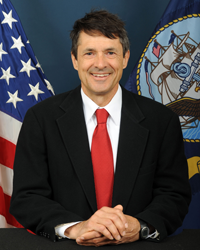 Robert Zueck, Ph.D., P.E.
U.S. Department of the Navy
Naval Facilities Engineering Systems Command (NAVFAC), Expeditionary Warfare Center
Port Hueneme, California
Read the press release.
Introducing the FEYA Top Ten Finalists
MAJ John M. Kulikowski, P.E.
U.S. Department of the Air Force
Pacific Air Forces
Osan Air Base, Republic of Korea (RoK)
AIR FORCE OFFICER LEADS AIRFIELD UPGRADES IN KOREA, OTHER LOCATIONS
Amid his current engineering flight commander duties in Korea, Kulikowski supervised 90 personnel and executed Pacific Air Forces' largest design/construction portfolio worth $2.8 billion, supporting RoK military planning and priorities. He further identified and initiated a $1 billion infrastructure consolidation and modernization program to increase resiliency of U.S. and RoK wartime mission capabilities over the next 15 years. In a similar move, as installation management flight commander, Kulikowski directed the Air Force's largest dorm complex with 4,500 rooms and collective warfighting protection capabilities. He also developed an innovative facility divestment program for more optimum use of installation square footage and to eliminate failing infrastructure.
For U.S. Central Command, Kulikowski engineered a $2.3 billion airfield investment strategy in four countries to enable close-air refueling, heavy lift support, and kinetic strikes against ISIS. On the domestic front, Kulikowski created a life-cycle assessment tool to quantify environmental impacts for airfield rehabilitation strategies at the University of Illinois Willard Airport and O'Hare International Airport. And he also headed the U.S. Department of Defense's Airfield Pavement Evaluation Team — responsible for oversight of two billion square feet of airfields at 210 locations.
---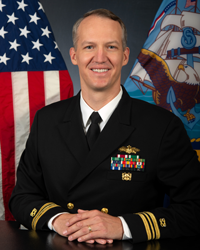 Lt. Cmdr. Joshua Lewis, P.E.
U.S. Department of the Navy
Naval Facilities Engineering Systems Command
Marine Corps Marianas, Camp Blaz, Guam
NAVAL OFFICER MANAGING KEY MILITARY CONSTRUCTION PROJECTS IN GUAM
Lewis serves as the operations officer in charge of construction for Marine Corps Marianas. His leadership directs more than 60 technical and acquisition personnel in facilitating a 10-year, $8.7 billion construction program. To build a new military base and supporting infrastructure throughout Guam, he is managing 25 construction projects, which include more than 560 acres of site development, roads, utilities, barracks and other key facilities for the new installation. Lewis is also overseeing construction of four live fire ranges, a 2,000-acre urban training site, two hangars, and other air combat infrastructure.
In 2020, Lewis led a comprehensive shore infrastructure evaluation to determine the best homeport locations for future frigate class ships. His efforts resulted in the Navy's decision of a homeport location, and his detailed engineering assessments enabled planning for the required construction projects necessary to meet delivery of the new ships. A year earlier, Lewis developed an engineering tool to analyze the Navy's global pier infrastructure capacity to accommodate future fleets. He also created an ocean engineering analysis tool to quantitatively evaluate and calibrate buoyancy and stability characteristics of maritime systems.
---
LTC Eric Marshall, P.E.
U.S. Department of the Army
U.S. Army Corps of Engineers, Pacific Ocean Division
Fort Shafter, Hawaii
ARMY ENGINEER DIRECTS MILITARY BASE, SUPPORT FACILITY CONSTRUCTION
During the U.S. campaign against ISIS (Operation Inherent Resolve) from 2015-2019, Marshall was the lead tactical engineer. And from 2017-2019, he served as the engineer squadron commander for U.S. Army Special Operations Forces, delivering all infrastructure for overseas armed conflict. His notable achievements included expeditious airfield construction, repair of C-17 capable runways, and the design/construction of semipermanent airfield facilities and more than 20 military bases. Marshall also spearheaded construction of three pumping stations along the Suwar Canal in Syria that restored water distribution from the Euphrates River, affecting more than 100,000 residents and partnering forces.
Currently, Marshall is commander of the Corps' Honolulu District, where he fuses technical and business acumen to lead complex engineering challenges. One of these addressed alternate care facilities for COVID patients on short notice, resulting in a 60-day renovation effort for Guam Memorial Hospital. As another benchmark success, he completed the final stages of a $450 million three-phased Pacific command and control facility. Moreover, Marshall led Honolulu's Ala Wai Canal flood risk management project through a difficult transition when the civil works venture realized cost overruns.
---
Lt. Cmdr. Chaolong Qi, Ph.D., P.E.
U.S. Department of Health and Human Services
Centers for Disease Control and Prevention (CDC)
Cincinnati, Ohio
CDC RESEARCHER MAKES WORKPLACE AIRBORNE CONTAMINANTS A PRIORITY
CDC senior research engineer Qi applies much of his expertise toward workplace safety and health. To his credit, he recently addressed silicosis among workers in the stone countertop industry by identifying the sources of overexposure to silica dust that were causing the outbreaks. He then designed two engineering control solutions to successfully reduce workers' exposure to levels below the limit set by the Occupational Safety and Health Administration (OSHA). Qi also developed multiple scientific instruments to measure workers' exposure to particulates, including nanoparticles. One of his designs measures nanoparticles in real-time and has been licensed by a leading instrument manufacturer and is in commercial production for use in multiple industries.
In a related milestone, Qi designed and implemented a testing system for evaluating the generation rate of airborne contaminants from different work activities, such as cutting fiber-cement, 3-D printing, and cutting or sanding solid-surface composites and treated lumber. OSHA adopted Qi's control solution for cutting fiber-cement in the new silica standard, and two major manufacturers of fiber-cement recommend Qi's evaluation testing system in their best practice guidelines for worker protection.
---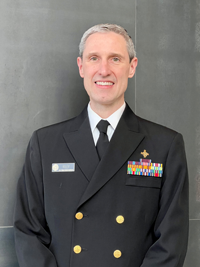 Lt. Cmdr. Gary Riley, P.E.
U.S. Department of Interior
National Park Service
Seattle, Washington
ENVIRONMENTAL ENGINEER GUIDES CLEANUP OF CONTAMINATED PARK SITES
For more than three years, Riley served as environmental engineer and program manager for contaminated sites in national parks across eight states and the Pacific territory region. His projects encompassed hazardous waste cleanup planning and liability reporting at more than 160 sites in the region's 60 parks. As a signature achievement, he guided the waste cleanup of $2.3 million of wildfire-burned structures in a California park. Deploying a special air monitoring protection network and other innovative practices, Riley's project approach is now used as a response prototype for other parks in the region.
He further led engineering and public protocols in selecting a $2 million cleanup of a former waste disposal area in Yosemite Valley, allowing safe park visitor use while preventing wildlife displacement. And on another front, Riley assumed federal oversight for nearly 40 mining site cleanups in the Mojave National Preserve. Through those efforts, he developed a new strategy for managing waste in a less disruptive manner for visitors and wildlife. Riley also managed a complex environmental project for in-place underground storage tanks at a prominent historical site.
---
Christopher Saucier, P.E.
Tennessee Valley Authority (TVA)
Boone Dam Remediation Project
Kingsport, Tennessee
LEADING PROJECT MANAGER BRINGS BOONE DAM REMEDIATION TO A CLOSE
After nearly seven years of remediation work, Boone Dam is expected to reopen to the public this summer. Saucier was the principal project manager and technical director for the Boone Dam Internal Erosion Remediation Project, the largest dam safety modification program in agency history. The final construction piece of the dam's recovery, a composite seepage barrier (cutoff wall), is anticipated to provide value beyond remediation costs and ensure public safety through enhanced risk reduction measures. Guiding a team of 60 engineers, geologists, and geographic information specialists, Saucier led development of new project structures and processes — coordinating efforts and communications between TVA design and construction teams and external contractors.
Aligned with the numerous technical advancements achieved during the project, Saucier facilitated new strategies for agency reviews and approvals required for project closure and reservoir operation, further advancing TVA's implementation of risk-informed decision making. He also developed steps for evaluating project implementation impacts on TVA's dam safety risk profile. Following the final stage of remediation, which demonstrated successful performance during reservoir refilling, an external independent review board recognized the project's successful best practices as exemplary.
---
Davood (Dave) Tashakkori, P.E.
U.S. Department of Veterans Affairs
Office of Construction and Facilities Management (CFM)
Washington, D.C.
MECHANICAL ENGINEER USES DESIGN EXPERTISE TO HELP VETERANS AFFAIRS
Tashakkori has dedicated his 36-year engineering career to serving numerous federal government agencies. To better assist U.S. veterans, he joined Veterans Affairs in 2016 as senior mechanical engineer within the CFM group. Since his arrival, he has become program manager and subject matter expert on multiple VA projects. For instance, he has authoritative responsibility for day-to-day management of the HVAC design manual program and provides oversight on more than 30 other architectural and engineering design manuals. Aligned with these tasks, Tashakkori heads several COVID/pandemic committees in reviewing and prioritizing changes to VA design manuals and other documents regarding responses to future pandemics.
For nearly five years, Tashakkori has participated on a voluntary damage assessment team to help veterans impacted by various natural disasters, and he continues to organize dozens of professional training and networking events in the Washington, D.C. area. More recently, he is the program manager for a unique, innovative VA enterprise. Known as SMART-CUP (Standardized, Modular, Adaptable, and Rapid Template for Central Utility Plants), this design manual program was developed and guided by Tashakkori from its inception.
---
Lt. Cmdr. Michael Wandersee, P.E.
U.S. Department of Interior
U.S. Fish and Wildlife Service (USFWS)
Lakewood, Colorado
ENGINEER'S MISSION ADDRESSES IMPROVEMENTS AT FISH, WILDLIFE FACILITIES
As a USFWS project engineer, Wandersee is responsible for capital improvement and deferred maintenance programs in assigned fish hatcheries and wildlife refuges. During his tenure, he has independently managed nearly 60 moderate to complex projects in 25 agency stations spread across seven states — valued at more than $15.7 million and serving about 1.3 million people. Wandersee's public health program portfolio is impressive, too. His more than 30 agency projects have addressed well installations, improved fire protection, sanitary sewer system replacement, removal of asbestos and mold materials, better operations efficiency, and increased visitor safety and accessibility. From 2018 through 2021, Wandersee volunteered as a USFWS regional energy manager to report and monitor data from the region's more than 1,000 electric and water meters to ensure compliance with energy and water reduction. He further performed audits when discovering abnormal data. Wandersee has also worked independently with state and other federal regulatory agencies to evaluate requirements for projects, complete permitting applications, and coordinate with utility providers to ensure project scheduling. His ability to complete these requirements has generated significant savings and accelerated project delivery time.
---
James Works, P.E.
U.S. Department of the Air Force
Air Force Civil Engineer Center
Tyndall Air Force Base, Florida
AIR FORCE ENGINEER OVERSEES FUELS INFRASTRUCTURE SYSTEMS, FACILITIES
A recognized expert on fuels infrastructure, Works chairs the Tri-Service Fuels Discipline Working Group. This technical body develops, writes, and maintains U.S. Department of Defense (DoD) design, construction, and maintenance criteria for all petroleum storage and distribution systems. Also notable, Works heads the U.S. delegation to NATO's Petroleum Handling Equipment Working Group, which facilitated publication or revision of five Unified Facilities Criteria and more than 25 Unified Facilities Guide Specifications for architectural/engineering and construction firm use.
Works also developed a new management framework to ensure that all Air Force fuels facilities are properly assessed and maintained, planned, designed, and constructed to maximize effective use of funding. In a different capacity, he helped craft health and mechanical engineering policy for Air Force facilities responding to COVID outbreaks, and he drafted updates for mold identification and remediation policies. Additionally, Works was handpicked to give technical support to an audit of the DoD Inspector General's life, health, and safety deficiencies at Al Udeid Air Base in Qatar and preliminary assessment of Ali Al Salem Air Base in Kuwait. In response, he recommended multiple improvements to construction and maintenance processes.
---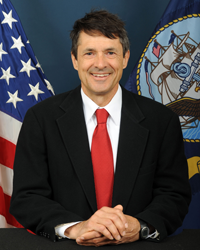 Robert Zueck, Ph.D., P.E.
U.S. Department of the Navy
Naval Facilities Engineering Systems Command (NAVFAC), Expeditionary Warfare Center
Port Hueneme, California
NAVAL ENGINEER APPLIES NEW VIBRATION RESEARCH TO MILITARY PROJECTS
In a basic research project conducted several years ago, Zueck discovered how geometrically complex vibrations initiate, grow, and sustain themselves, often limiting higher performance for many combat systems. For example, when airflow induces excessive vibrations, aircraft can fly no faster. Similarly, when water flow induces strong vibrations, submarines become acoustically visible. Using this new knowledge of vibrations, defense engineers can now design beyond the speed, agility, and stealthiness limits of many military sensors, weapons, and platforms. In a 2020 applied research project, Zueck used this new vibration knowledge to improve the Expeditionary Warfare Center's modeling capability for designing, analyzing, and deploying towed sensors, ship moorings, sub-sea arrays, and other slender naval structures.
For nearly 15 years, Zueck's structural engineering expertise helped NAVFAC develop a program for inspecting, repairing, and maintaining the tall towers that support communications, control, and other naval missions. The engineering team's workload greatly expanded in 2018 to include more than 100 annual tower inspections. Equally noteworthy, Zueck has managed extensive waterfront engineering projects for more than a decade, including piers, wharves, dry docks, breakwaters, and other critical naval facilities.
2022 NSPE Federal Engineer of the Year Agency Winners
* Top Ten Finalists
MAJ John M. Kulikowski, P.E.*

U.S. Department of the Air Force
Pacific Air Forces

LCDR Joshua M. Lewis, P.E.*

U.S. Department of the Navy
Naval Facilities Engineering Systems Command

Eric Marshall, P.E.*

U.S. Department of the Army
U.S. Army Corps of Engineers

LCDR Chaolong Qi, P.E., Ph.D.*

U.S. Department of Health and Human Services
Centers for Disease Control and Prevention

LCDR Gary J. Riley, P.E.*

U.S. Department of Interior
National Park Service

Christopher L. Saucier, P.E.*

Tennessee Valley Authority

Davood (Dave) Tashakkori, P.E.*

U.S. Department of Veterans Affairs
Office of Construction & Facilities Management

LCDR Michael Wandersee, P.E.*

U.S. Department of Interior
U.S. Fish and Wildlife Service

James V. Works, P.E.*

U.S. Department of the Air Force
Air Force Civil Engineer Center

Robert F. Zueck P.E., Ph.D.*

U.S. Department of the Navy
Naval Engineering Systems Command

Richard B. Albin, P.E.
U.S. Department of Transportation
Federal Highway Administration
CDR Omobogie Amadasu, P.E.
U.S. Department of Health and Human Services
Indian Health Service
CAPT Christopher P. Brady, P.E.
U.S. Department of Health and Human Services
Indian Health Service
Kyle Buschbacher, P.E.
U.S. Department of the Navy
Naval Sea Systems Command
Christina Castleberry, P.E.
U.S. Department of the Air Force
COL Garrett B. Cottrell, P.E.
U.S. Department of the Army
U.S. Army Corps of Engineers
Marilyn D. Dodson, P.E.
U.S. Department of Transportation
Federal Highway Administration
Shanna M. Durham, P.E.
U.S. Department of Interior
Bureau of Reclamation
Johanna Riley Evans, P.E
U.S. Department of the Navy
Naval Surface Warfare Center, Carderock Division
CAPT Conor Anthony Tunch Favo, E.I.T.
U.S. Department of the Air Force
Air Force Special Operations Command
Thomas B. Gilmore, E.I.T.
U.S. Department of Health and Human Services
U.S. Food and Drug Administration
Tate Jeffrey, P.E.
U.S. Department of Agriculture
Natural Resources Conservation Service
Lara Kearney
National Aeronautics and Space Administration
Johnson Space Center
Joseph S. Krolak, P.E.
U.S. Department of Transportation
Federal Highway Administration
Timothy E. Meyers, P.E.
U.S. Department of Homeland Security
U.S. Coast Guard
William Monaco, P.E.
U.S. Department of the Navy
Naval Undersea Warfare Center
Douglas A. Noll, P.E.
U.S. Department of the Navy
Naval Surface Warfare Center, Carderock Division
Joseph C. Reed, P.E.
U.S. Department of Interior
National Park Service
Dominique M. Reimann P.E.
U.S. Department of the Army
U.S. Army Europe and Africa
Andrew Roberts, P.E.
U.S. Department of Interior
Bureau of Land Management
Peter I. Simeonov, Ph.D.
U.S. Department of Health and Human Services
Centers for Disease Control and Prevention
LCDR Reginald Taylor, USPHS, P.E.
U.S. Department of Health and Human Services
National Institutes of Health
Daria Van Liew, P.E.
U.S. Department of the Army
U.S. Army Corps of Engineers
Sandy Weininger, Ph.D.
U.S. Department of Health and Human Services
U.S. Food and Drug Administration
LT Bryan Wimer, EIT
U.S. Department of Health and Human Services
Centers for Disease Control and Prevention
Hanniebey D. Wiyor, Ph.D.
U.S. Department of Health and Human Services
U.S. Food and Drug Administration
Ronald E. Wood, P.E.
General Services Administration
Public Buildings Service
Antonios Zoulis, P.E.
U.S. Nuclear Regulatory Commission
Past FEYA Winners and Events »