2008 Federal Engineer of the Year Award
Sponsored by the Professional Engineers in Government, this honor is awarded to an engineer employed by a federal agency that employs at least 50 engineers worldwide. Candidates are nominated by their employing federal agency. The Federal Engineer of the Year is selected by a panel of judges established by NSPE-PEG who consider engineering achievements, education, continuing education, professional/technical society activities, NSPE membership, awards and honors, and civic and humanitarian activities.

2008 FEYA Winner
The FEYA winner is Capt. Anthony Todd Zimmer, Ph.D., P.E., C.I.H., Environmental Protection Agency, U.S. Public Health Service.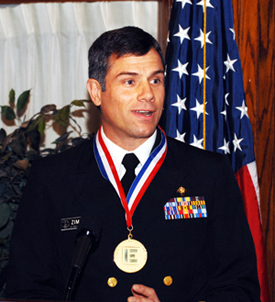 Zimmer, a senior engineer with the Environmental Protection Agency's Office of Solid Waste and Emergency Response, is highly accomplished in his field with over 20 years experience in efforts to protect public health and the environment through emergency response, engineering control research, and engineering leadership. He deployed shortly after the World Trade Center attacks to provide occupational safety and health expertise to workers at "ground zero" and deployed three separate times to assist with hurricane recovery efforts in Louisiana following Hurricane Katrina.
He now works to protect the transit systems of several cities against terrorist attacks by serving as the Technical Working Group Chair of a large multi-agency task force. Zimmer is also well-known for his research, including a groundbreaking look into airborne nanoparticles (one billionth of a meter in length) leading to an agency-wide recognition of the importance of the unique health hazards associated with inhaling these particles. His research assisted in the founding of the Nanotechnology Research Center within his division, facilitated significant interagency and academic research collaborations, and resulted in a fundamental reevaluation of current workplace exposure standards to nanoparticles.
Watch video: 2008 Federal Engineer of the Year Awards Ceremony, National Press Club
Radm. Richard Barror, Ph.D., P.E., Chief Engineer, U.S. Public Health Service, addresses the 2008 FEYA audience.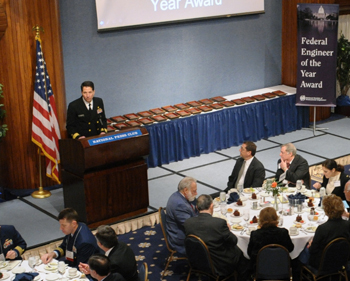 Ltg. Robert L. Van Antwerp, P.E., U.S.A., Chief of Engineers/Commanding General, U.S. Army Corps of Engineers also addressed the agency winners, family, colleagues and guests.


Press Releases
Focus on Improving Public Health and the Environment Leads Engineer to Top Honors >>